THIS MONTHLY RAFFLE – FEBRUARY 2023 – BRINGS YOU THE OPPORTUNITY TO WIN PRIZES FOR SHOPPING ONLINE!

Keep reading to see who are our Monthly Raffle February 2023 Winners.
Thank you
A big thank you to everyone who participated in our Monthly Raffle this February and making it such a huge success!
The Scotvapes team appreciate all your support.
Monthly Raffle Winners this February 2023
CONGRATULATIONS TO OUR TWO MONTHLY RAFFLE FEBRUARY WINNERS.
We hope you love the selection of e-liquids being sent your way!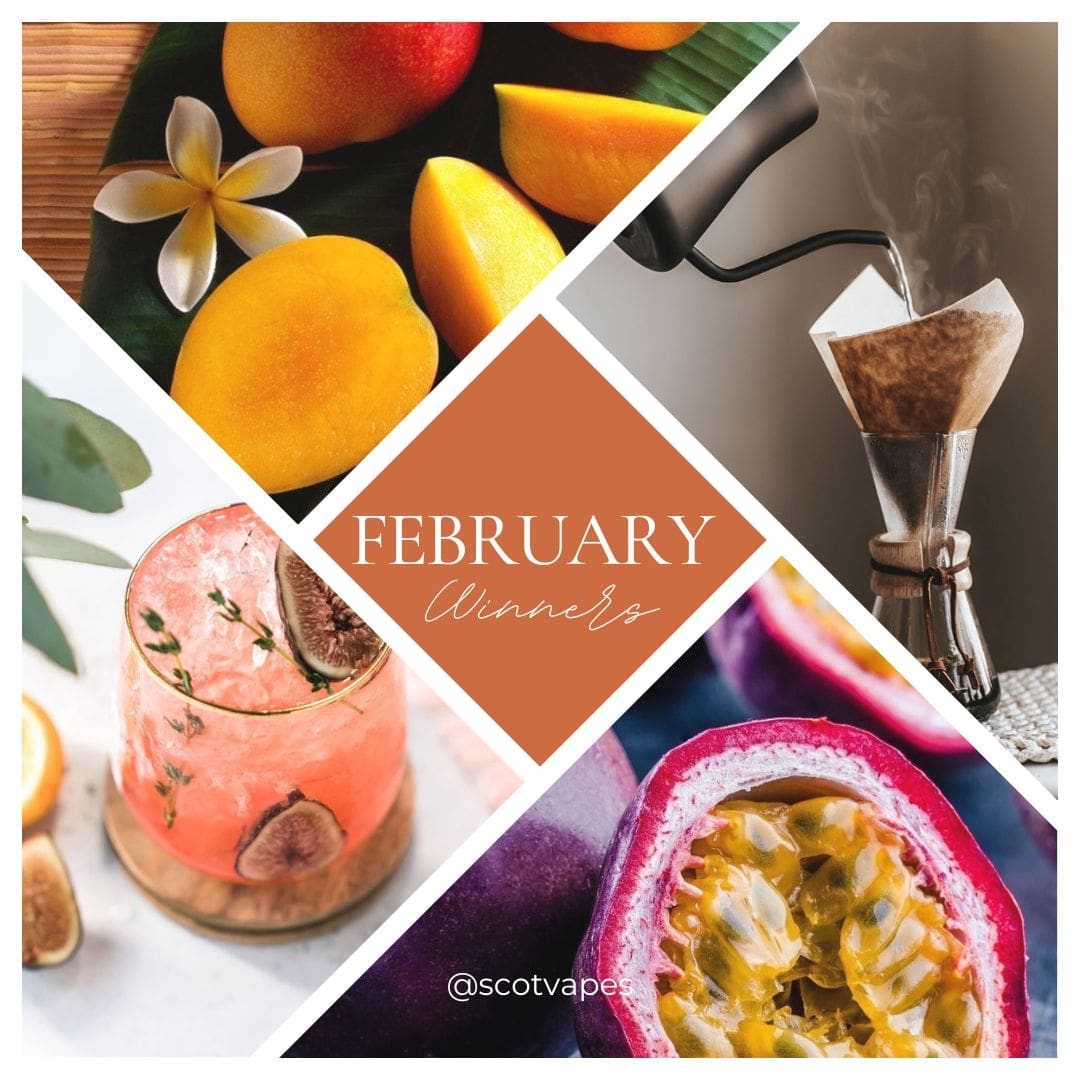 WINNERS & PRIZES:
1st Prize Winner: Keenan Simpson (Lochaber) – The following selection of e-liquid voted by Scotvapes customers, amounting to £40+.
2nd Prize Winner: Adam Doherty (Aberdeenshire) – The following selection of e-liquid voted by Scotvapes customers, amounting to £30+.
We will package and post your prizes at the beginning of March. We hope you love them!
What to know if you're a winner
We will contact the winner directly through email. DO NOT give any personal information to anyone pretending to be us. We will contact you directly through our email address website@scotvapes.com.
If you would prefer an alternative strength of e-liquid, please make sure to contact us straight away. We can then make suitable adjustments to your prize before it is packed and shipped.
As we already have your contact details, we will ship your prize to your default address. However, if you have recently moved or require shipping to an alternative address, please make sure to let us know in ample time.
If you would not like to receive the prize you have won, please let us know. We will then give your prize to the runner up. However, we would always advise to accept the prize as you could easily gift this to a friend or family member over the age of 18 who is looking to quit smoking!
There's always next time
Don't worry! There is always a chance to win the next monthly raffle.
March's Monthly Raffle prizes will be announced at the beginning of the month. Keep an eye our to see what you have the chance of winning!
SOCIAL MEDIA LINKS
Check out our social media and keep up to date on everything you can win in our Online Exclusive Monthly Raffles and MORE!
We share our new products and deals on our social media accounts so give us a follow to stay in the loop.
Instagram: @scotvapes
Facebook: Elgin, Inverness, Aberdeen, Glasgow, Thurso, Montrose, Paisley and Fort William.
If you shop exclusively online, we advise you follow our instagram account and one of our Facebook pages to ensure you don't miss exciting new deals and products.