Scotvapes Iced Nic Shot 18mg is ideal for adding that extra cool hit into your shortfills without affecting the flavour.
This nic shot gives you a strong icy menthol kick for your short fill e-liquids.
How it works:
When combining this 10ml, 18mg nicotine shot with a 50ml short fill it will create 60ml of 3mg e-liquid.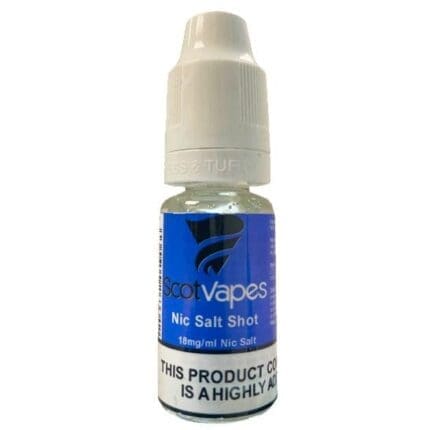 Scotvapes Nic Salt Shot 18mg use 'salt based' nicotine mixed at 18mg/ml to achieve a perfectly smooth vape.
Scotvapes Nic Shot 18mg is a flavourless nicotine diluted in a vegetable glycerin and propylene glycol solution at a concentration of 18mg/ml (1.8%).